In many ways (okay, mainly my way) week one of the finals, unless you are a fan of the winners, has been a little underwhelming. Especially when considering the sheer brilliance that is Steve Smith, Lord of the Handles and the First Batsmen.
But for those lucky enough to cheer on the winners, it was an extravaganza of goals and sheer dominance. A display that from the outside, looks to have separated the Smith's from the Stokes's (he's good, but he's averaging 30 less than Azor Ahai Smith – yes, I like GoT). In the words of R.Kelly, the eternal pissimist, lets's break it down…
Nic Naitanui, WCE
The Eagles have a very good midfield, hell, they even look good when they have Tom Hickey as their number 1 ruck option. When Nic Naitanui is rucking for the Eagles they look like a bloody Porsche 918 Spyder. The leap is prodigious, the touch is even better. I used to run through the midfield from time to time when I was a younger, skinnier lad – the ruck tap was always a lottery – in the AFL obviously that is a much smaller lottery, but when that big, beautifil dreadlocked man is plying his trade it can sometimes look like a damn near certainty where the ball may end up. The confidence and the bravado that inspires in Shuey, Redden and Yeo is telling, considering the absolute mauling that the Eagles gave the Dons, even considering Shuey's 72% game time (hmmm). While Nic Nat's stats (7k, 7hb, 28 hit-outs) doesn't read as a standout performance, the inspiration and influence on his mids was telling, and the Bombers went home smarting because of it.
---
---
Jeremy Howe, Collingwood
I could've chosen Sidebottom, Pendles or Grundy, but Howe seemed to stand out, if not statistically. Whenever Geelong looked to be making inroads into a position that may threaten a goal Howe seemed to bob up and thwart it, and then would go on and provide penetration (601m gained) to allow another Collingwood foray to goal. He seems hungry, his desperation was on display early and throughout, and his undoubted marking ability was prominent. He also managed a ripper goal which gave the Pies a head of steam earlier in the game. Taylor Adams was the other high performer not mentioned earlier, his goals were indicative of how Collingwood looked to set the pace.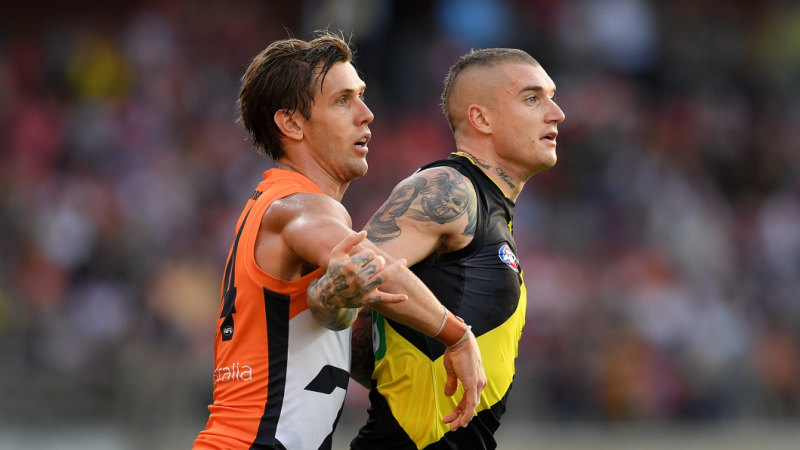 Matt de Boer, GWS
Marcus Bontempelli is a fantastic player. He is as much a Bulldogs barometer as the Wests and Grant's before him. Matt de Boer (a sandover medallist himself) was tasked with negating the influence that the Bont would have over the game, and from the outset – EVERY SINGLE PERSON WATCHING KNEW IT. It wasn't even just that contest – The Giants obviously had a statute to bully, harass and disincentivise the Footscray brigade from the outset – de Boer's was just the most important. It wasn't beautiful, it wasn't graceful, nor was it even fair at times. What it was, was effective. He limited the Bulldogs star to 13 touches. while having 18 himself. Matt de Boer is not a name heard much in weekly roundups or best-on's but you can be damn sure he will have a big part to play going deeper into September.
Dustin Martin, Richmond
I've given three left field ones, but here is an up-front favourite. Dustin Martin is an out-and-out superstar of our game. Camped in the forward 50 for the majority of the game, he was the Tigers counter-punch argument to the Charlie Cameron jab, and by Jove was he effective, his 6 goals paving the way and the driving force behind the Tigers demolition of Brisbane. God, Buddha, Jehova or Tom Cruise help whoever cops the matchup in two weeks – I'd rather be bowling to Azor Ahai.
---
Have an opinion you want to share? Be sure to join the conversation online by liking us on Facebook or following us on Twitter.