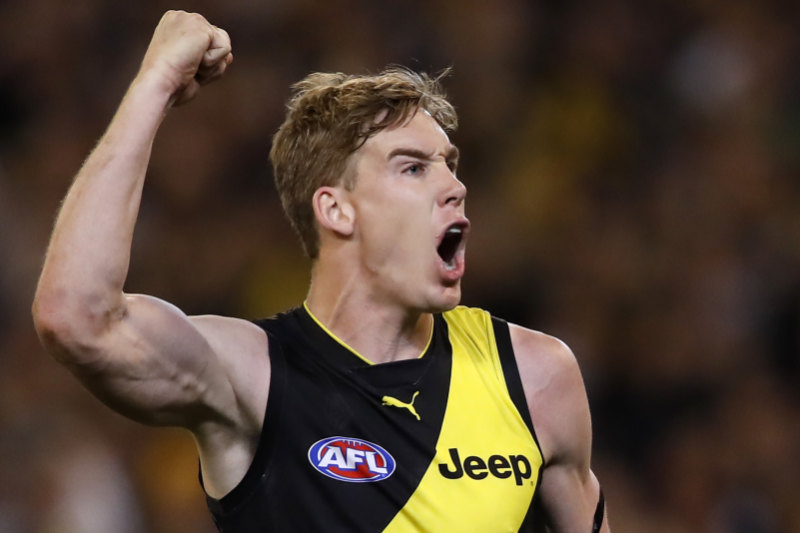 The penultimate weekend of football for 2019 saw some of footy's big hitters stamp their influence on the race for the flag – none more than the players highlighted here.
Tom Lynch, Richmond
I did call it, he was due. The Tigers 19 point win against the Cats at the MCG on Friday night was underpinned by a dominant performance from Tom Lynch, the former Sun letting his hands and leg do the talking as he kicked 5 majors, clunked 4 contested grabs and had 12 score involvements.
The opening stanza of the third term where he received a lace-out pass from the equally impressive and equally former Sun Prestia was telling, as the Tigers piled on 5 unanswered goals for the second half, and cementing their spot in the big dance.
Tim Kelly, Geelong
If there was talk that a West Australian club might try to haggle over the asking price for the Geelong superstar in the trade period, his performance on Friday night (and brownlow polling on the Monday) would have had list managers shaking their heads in frustration.
Kelly was dominant, willing himself from contest to contest and bobbing up for important goals at important times, keeping the Cats in with a sniff. Three goals, 31 touches and a game-high 754 metres gained wasn't enough to get the boys in the hoops over the line in the end, but it was a commanding performance from Kelly, one that will go a long way to ensure that some top end draft picks/players will be handed over for his services in 2020.
---
---
Zac Williams, GWS
Williams, of Gee-dubya ess (please Gil, work on that pronunciation) featured recently in the big performers and he was at it again on a wet MCG on Saturday.
He was formidable in his familiar role at half-back, but stints through the middle went a long way to highlighting his main skills – Beautiful, piercing kicking – if his boot had a voice it's name would be Robert Plant – and speed, the Achilles injury from 2018 a fading memory as he chased down opponents and presented at contest constantly. His stats don't read as uber – impressive, but the work that he put in at contest to provide an option, and his run and carry was telling – 25 touches, including 22 kicks and a goal his finishing tally. Haynes was again a monster in defence, and it was a toin-coss between him and Williams, Haynes finishing with 30 disposals and 9 marks – The GWS defence resilient as ever, even when Collingwood were surging.
Jeremy Howe, Collingwood
Grundy was dominant in the Ruck sure, but there has been a bit written about that already in the media and how his 73 hit-outs really didn't seem to have a great bearing on the game, which is debatable – what isn't debatable is the effort and impact that Jeremy Howe can have from the half back line.
He was as dependable as ever in defence, and launched the Pies into attack numerous times, his prodigious boot seeing the sherrin 20 times at 83% efficiency. Howe also spent almost the entirety of the match on the field (98%) – testament to his tank and importance to the Magpies defensive structure. Howe also recorded a game-high 627m gained.
---
Have an opinion you want to share? Be sure to join the conversation online by liking us on Facebook or following us on Twitter.